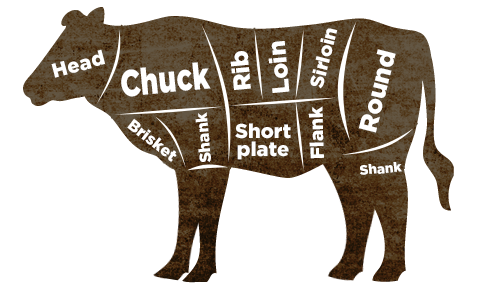 Beef
We take care in choosing the finest quality beef, to ensure you receive the best meat available. We source Tasmanian free range and grass fed beef which is free of added growth hormone promotants and antibiotics. All stock is personally approved on arrival to ensure that our meat is of the highest standard, to provide consistently tender, juicy and tasty meat.
We guarantee that we will not sell you inferior cow as yearling beef as we have a strong reputation in supplying quality meat and believe in product integrity.
We stock Robbins Island Wagyu, grown by the Hammond family on Robbins Island. The cattle are raised as naturally as possible, on pastures with no supplements, hormones or antibiotics. They produce meat with slightly less marbling as they prefer their cattle to range free on pasture. The Wagyu is aged, has a sensational flavour and is available at very few other outlets.
Cape Grim Beef, Grain fed beef and speciality mainland products are also available.
We also have dry aged beef, like the beef Marcus showed Matt Evans on the Gourmet Farmer on SBS (episode 8 of season 3). Aging enhances the flavour of the meat and makes the meat even more tender, as the enzymes naturally present in the meat break down the muscle tissue. The dry aging process intensifies the meat's flavour. These days, most beef is aged in plastic shrink-wrap—a process known as wet-aging. Dry-aged beef on the other hand is exposed to air so dehydration can further concentrate the meat's flavour.
Although not routinely stocked, we can source grain finished beef from the mainland.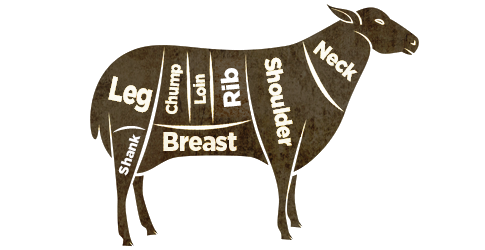 Lamb
Our lamb is locally raised in Tasmania. Every lamb is chosen for quality, so that your lamb will be tender and sweet. All our lambs are free range, pasture fed, and are free of added hormones, steroids and growth promotants. We guarantee that we won't sell you mutton dressed as lamb.
Flinders Island Lamb is also available upon request. Flinders Island Meats is a father-son operation specialising in salt grass lamb and milk fed lamb. Their award winning salt grass lamb is acclaimed for its tenderness, texture and extra flavour. The extra flavour is said to be from the salt deposited on the grass by the Roaring Forties winds.

Pork
We source our pork from Tasmanian farms to ensure premium quality, flavour and tenderness. We choose not to buy cheaper larger male pork, but instead source smaller female pork. We buy pork from Tasmanian suppliers.
We endeavour to stock free range for life pork from small local producers who focus on the preservation of rare breed pork, including the Wessex Saddleback. Whilst not originating in Tasmania, the Wessex Saddleback has been listed on the international slow food arc of taste, a list designed to highlight the plight of disappearing regional food groups of note and to encourage their use and consumption. Rare breed pork is of premium quality and is moist due to its marbling. In addition we stock Scottsdale Pork which is paddock bred in Tasmania. No growth promotants, steriods or hormones are used. Piglets are reared in paddocks until weaning. They are then raised in roomy eco shelters where they are free to move around and socialize.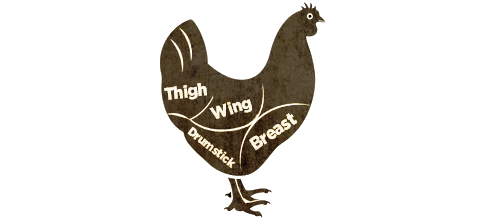 Poultry
We sell Nichols poultry that is RSPCA approved and sustainably grown in Tasmania. Nichols chickens receive no added growth hormones or antibiotics, are produced chemical free and processed without added water. This process means that there is no excess water in the product.
Our free range turkeys are sourced from Deutscher's Turkey Farm, grown near the Grampians in Victoria. Daryl Deutscher has been committed to ethical farming practices and the need to preserve rare breeds of turkeys for over 30 years. Approximately a quarter of his birds are rare breeds that typically have slightly darker and more flavoursome meat than commercial whites.
Our whole and butterfly boned quail are sourced from Rannoch Quail Farm, located in Tasmania.
Halal poultry from Victoria is available upon request.
Our ducks come from Victoria, as there is no local producer.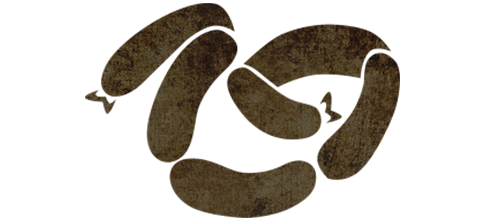 Sausages
Our regular beef mince is very lean and without preservatives. We are happy to make mince to order, including minced pork, veal, chicken, lamb, game and any combination of the above!
At Vermey's, our artisan sausages are made by hand, using fresh quality ingredients. We use quality meat, no fillers and our sausages are not too salty. Our delicious sausages have consistently won awards over a number of years. Click here to see the awards we have received.
Many of our sausages are gluten free. Our sausages are handmade in store from quality ingredients. We regularly make sausages to order, for customers that have specific dietary needs or prefer to avoid specific ingredients. We can make preservative free sausages and also salt free sausages.
Our sausages have won awards over a large number of years. In 2016 we won 9 prizes in the Royal Hobart Fine Food Awards 2016 and a silver for our poultry sausage in the 2016 Tasmanian AMIC sausage competition.
Our burgers have also won a prize. In 2011 they were voted the Best Tassie Butcher's Burger in the South at the Australian Meat Industry Council competition.